Activity Overview:
From now on, customers who order air fryers, receive the products, and share product-related contents based on the requirements can get exclusive 50% off voucher. The content must be posted on customers' own social media platforms (FB/IG/TIKTOK or any other platforms) and follow the requirements on the photos/videos and captions.
After verification by Simplus official, customers are eligible to collect exclusive 50% off voucher on the next order.
Order Time: 01/01/2023 00:00:00 - 31/03/2023 23:59:59
Order Platform: Simplus Malaysia Official LazMall/ Shopee Mall
Order Product: Simplus Air Fryer
Post Time: 01/02/2023 00:00:00 - 31/03/2023 23:59:59
Post Requirements:
- Any social media platform such as Facebook/Instagram/Tiktok
- With hashtag #simplusunboxing OR tag Simplus official accounts
Facebook @Simplus Malaysia
Instagram @simplus.my
Tiktok @simplus.my
- Reviews on social media must include either product photos or videos. Content can include but not limited to package unboxing, product shots, user experience, etc.
How to submit your post?
- Contact Simplus customer service team and get a submission link.
- Fill in the required information and submit.
Post content verification:
The submission will be reviewed and confirmed in 3 working days. Once verified, the exclusive 50% off voucher will be sent via Store Messenger.
Terms and Conditions:
- Voucher valid time: 01/02/2023 00:00:00 - 31/03/2023 23:59:59
- The voucher applies to entire shop
- Can be redeemed only on the original order platform of the air fryer
- Voucher discount up to RM60 off
- One voucher only applies to one order
- Only one voucher can be claimed for each order
- Social post must be displayed publicly for at least 30 days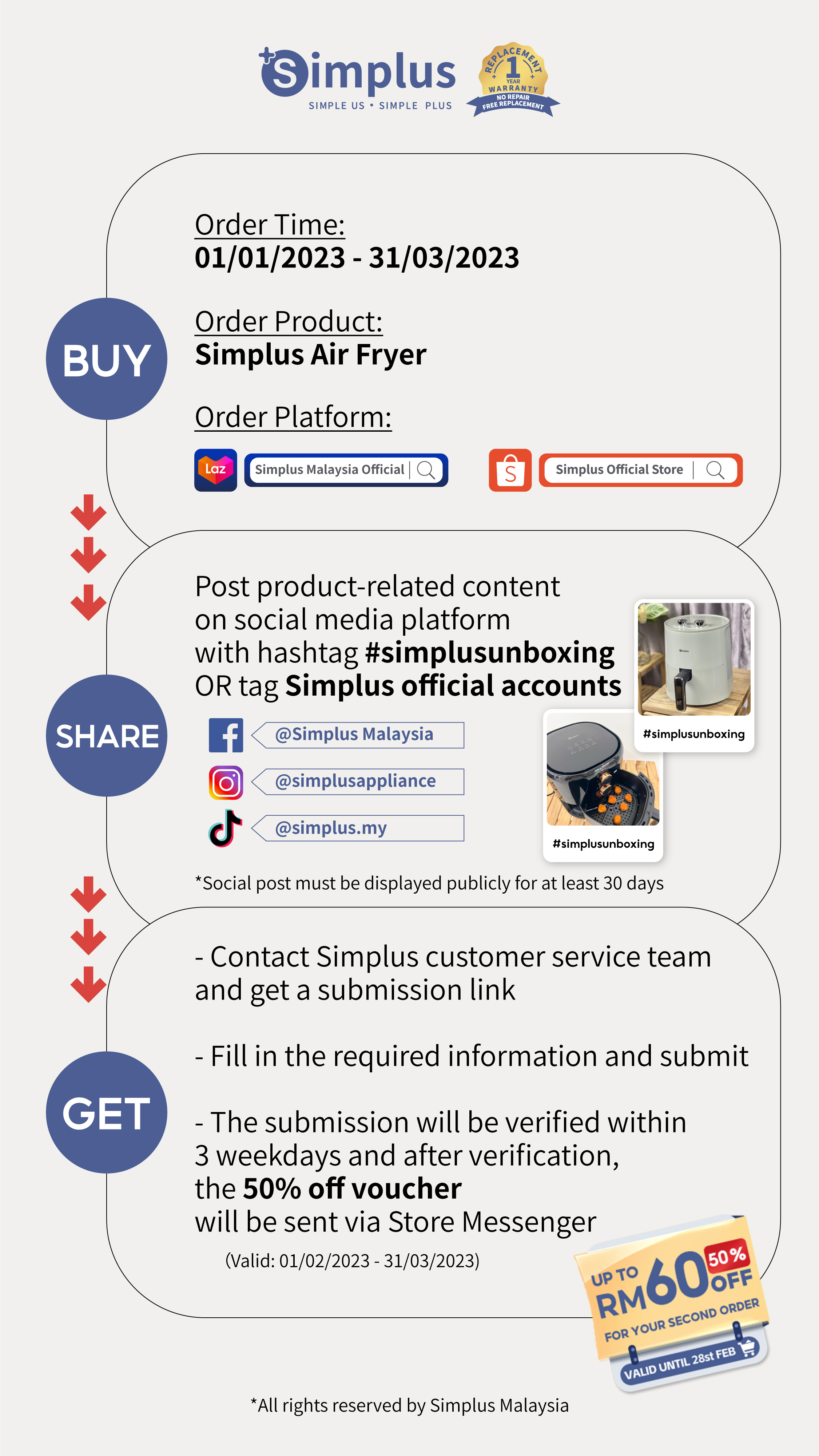 * All rights reserved by Simplus Malaysia