INSTRUCTION MANUAL
Ⅰ. Specifications
| | | | | | | |
| --- | --- | --- | --- | --- | --- | --- |
| Size: | Input: | Power: | Volume: | Working Capacity | Applicable Ambient Temperature: | Coverage Area: |
| 146*146*227mm | DC9V 2.5A | 23W | 600ml | 300ml/D (30°C, RH80%) | 5-50°C | < 15nf |
Ⅱ. Product Component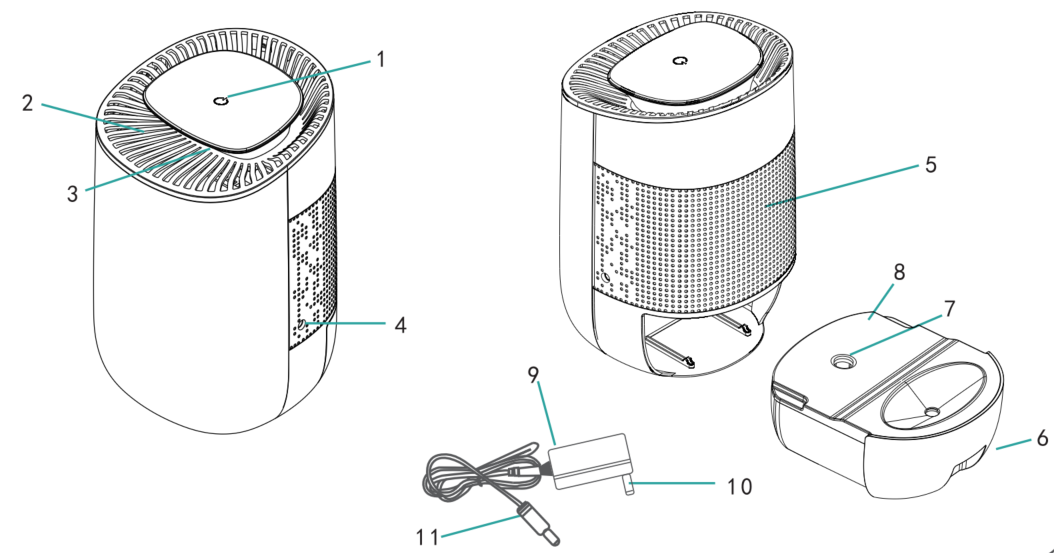 Power button 2. Air outlet 3. indicator 4. Power socket 5. Air inlet

Water tank 7. Floating switch 8. Water tank cover 9. Adapter 10. AC plug 11. Dc plug
Ⅲ. Instruction
General Instruction
Connect the adaptor with the dehumidifier and the socket.

Press the ON/OFF button to turn on the unit, and the indicator light will turn on with GREEN light.

To switch OFF, press the ON/OFF button again.
Indicator Operation
Press ON/OFF button for 3s to turn off the indicator.

Press ON/OFF button again to turn on the indicator.
Defrosting Function
When the unit detects the frost on the surface of the cooling plate, the unit will stop dehumidifying. After defrosting, the unit will continue to dehumidify automatically.
Bucket Full
The water tank has a maximum capacity of 600ml with 300ml per day working capacity.

The indicator light will turn RED when the water tank is full, and the unit will auto-off.

Please turn off the unit when the water tank is full, pull out the water tank, do nottilt the water tank when it's filled with water. Then slide out the water tank cover, pour out the water, and reinsert the cover.

Put the water tank back to the unit, press the ON/OFF button to restart.
Ⅳ. Cleaning
Ensure the unit is power-off and unplugged.

Use a soft cloth to clean away any dust or debris from the surface of the unit and air inlet

Pull out the water tank and slide out the cover to clean the water tank.
Ⅴ. Warning
Ensure the dehumidifier's ON/OFF button is OFF when the unit is not in use.

DO NOT place adaptor in a wet or damp place and ensure it is kept in a well ventilated area.

Keep the air inlet and air outlet free from being blocked.

ALWAYS keep the dehumidifier in an upright position to avoid leakages.