Instruction of Simplus Electric oven
Ⅰ. Model Specification
| | | | | |
| --- | --- | --- | --- | --- |
| Model No. | MFG Code | Rated Voltage | Rated Power | Rated Frequency |
| DKXH003 | B0041 | 220V | 1500W | 50Hz |
Ⅱ. Components and installation drawings
When cooking continuously, the cooking time will be shorter than that of the first use because of the high temperature in the furnace. Please adjust according to the actual situation of food.

When the heating temperature In the furnace Is too high, thethermostat can be automatically disconnected, the heating pipe will be extinguished temporarily, and will resume work after cooling. If the food is taken out halfway, there will be insufficient heating.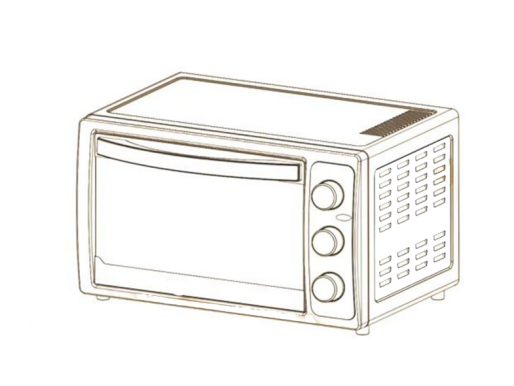 Product Structure
Temperature control knob: you can choose different temperatures according to actual needs and use. Function knob: select different working modes. When fermenting, please set the function knob to the lower heating tube.

Close: the heating work of the upperand lower heating tubes can be suspended according to the use requi

Not used: the timer must be in the OFF position. Turn clockwise to set thecooking time (up to 60 minutes), and the oven will automatically count down.
Ⅲ. Oven instructions
Place the tray or net in an electric oven, then place the food and close the oven

DO not place cloth or plastic pallets, containers, etc.

Use a baking tray when cooking small pieces of food (smaller than the mesh of the net) or juice.

Plug the power cord plug into the power outlet.The timer must be off.

Select the appropriate working mode, temperature and time.

Remove cooking food after oven stops working.

When taking out cooking food, be sure to use a matching handle or insulating gloves to avoid scalding.

When you stop baking, be sure to rotate the timer to the "off position.

Pull the plug out of the socket after use.
Food baking reference table
| | | | | |
| --- | --- | --- | --- | --- |
| Food Name | Time (minutes) | Temperature.C | Use of annexes | |
| Hot dog | 15-18 | 160 | ovenware | |
| bread | 7-10 | 140 | ovenware | |
| fish | 25 | 180 | ovenware | |
| Hamburg | 20-25 | 140 | ovenware | |
| corn | 25-30 | 200 | ovenware | |
| pizza | 10-12 | 230 | ovenware | |
| kebab | 20 | 200 | ovenware | |
| cake | 25-30 | 180 | ovenware | |
The above cooking methods are for reference only and can be adjusted according to according to the actual situation.
Ⅳ. Maintenance And Cleaning
Unplug your Air Fryer Oven and allow it to completely cool before cleaning.Do not use abrasive cleaners, as they will damage the finish. Simply wipe the exterior with a clean, damp cloth and dry thoroughly. Apply the cleaning agent to a cloth, not directly onto the Air Fryer Oven. Do not use excess pressure when cleaning the area of the control panel as it could cause the text to be removed over time.

To clean the interior walls and bottom of the oven (remove the Removable Crumb Tray first) use a damp soapy cloth or sponge. Never use harsh abrasives or corrosive products including oven cleaner sprays. These could damage the oven surface. Never use steel wool pads on the Air Fryer Oven or accessories.

The Wire Rack, Baking / Drip Pan, Air Fryer Basket and Removable Crumb Tray should be hand-washed in hot,sudsy water or use a nylon scouring pad or nylon brush.

Always clean the Removable Crumb Tray after each use. Excess food particles could cause smoking and will be hard to remove from tray. To remove baked-on grease or burnt food particles you can soak the Removable Crumb Tray in hot, sudsy water or use non abrasive cleaners. Never operate the oven without the Removable Crumb Tray in place.

The Rotisserie Spit, Forks, Screws and Removal Tool can be cleaned with a cloth or sponge in hot, sudsy water. For stubborn stains, soak them in hot sudsy water prior to cleaning.

The top interior of the Air Fryer Oven should be cleaned to remove excess grease that may accumulate after cooking greasy foods or after using the rotisserie function. Doing so will prevent smoking in the oven during subsequent uses.
Ⅴ. Important Notice
Do not cover Crumb Tray or any part of the oven with metal foil. This will cause overheating of the oven.
Oversize foods, metal foil packages and utensils must not be inserted in the Air Fryer Oven, as they may involve a risk of fire or electric shock.
A fire may occur if the Air Fryer Oven is covered or touching flammable materials such as curtains, draperies or walls, when in operation.
Do not store any items on top of the appliance when in operation.

Do not operate under wall cabinets.

To avoid the possibility of fire, NEVER leave the Air Fryer Oven unattended during use.

Use recommended temperature settings for all cooking / baking, roasting and Air Frying.

Extreme caution must be used when moving an appliance containing hot oilor other hot liquids.

Unplug from outlet when not in use and before cleaning. Allow to cool before cleaning or handling, putting on or taking off parts.

Do not touch hot surfaces. Use handles, or knobs.

To protect against electrical shock, do not place any part of the Air Fryer Oven in water or other liquids. See instructions for cleaning.

This appliance should not be used by or near children or individuals with certain disabilities.

Do not operate any appliance with a damaged cord or plug, or after the appliance has malfunctioned or has been dropped or damaged in any way or is not operating properly. Returnthe Air Fryer Oven to the store or retailer were purchased for examination or repair, or adjustment.

The use of accessory attachments not recommended may cause injury.

Do not use outdoors.

Do not let cord hang over the edge of the table or countertop,where it could be pulled on inadvertently by children or pets, or touch hot surfaces, which could damage the cord.

Do not place Air Fryer Oven on or near a hot gas or electric burner or in a heated oven.

Do not use this Air Fryer Oven for anything other than its intended purpose.

When not in use, always unplug the unit. Do not store any materials other than manufacturer's recommended oven proof accessories in this Air Fryer Oven.

Do not place any of the following materials in the Air Fryer Oven: paper, cardboard,plastic and similar products.